Boston Bar

&

Bat Mitzvah DJ Services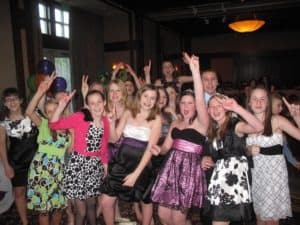 Looking to WOW your guests, young & older, with a HIGH ENERGY, professionally run Bar/Bat Mitzvah celebration? Sound Choice Events has the perfect combination of energetic MCs, the latest state of the art gear and exciting add-ons such as PhotoBooths, Dancers, Customized Club Style lighting, Videography and more!
You're sure to find a package below to satisfy your individual taste and budget for a fantastic celebration!
Our Bar / Bat Mitzvah Packages
Standard Bar/Bat Mitzvah Package

Interactive Lead MC who is BarBat Mitzvah Specialist and a second staffer who DJs and assists with the event.
Professional beat mixing digital sound system
Professional quality all digital music library with over 100,000 songs for young & older
In person, phone & email consultations
Four hours of music performance and games for kids
On line, password protected planning page, dedicated to your event
2 Revo III LED lights that chase the music for dancing
Complete second sound-system on site sound system for backup

2 Revo III LED lights that chase the music for dancing

UPGRADE Uplighting. Adds up to 20 computer controlled, completely wireless uplights, with dress kits

UPGRADE, Sound, Adds high quality well rounded low end (BASS!)- the best sound system we offer

UPGRADE CLUB Lighting. Adds two Accuspot 300s (our best intelligent club lighting!) moving head, synchronized club lighting that work together to create a dazzling show

UPGRADE, Motivational Dancer. In addition to our DJ and MC, we add a motivational dancer to lead and motivate the crowd!

{{content-14}}
{{content-15}}
Plasma Bar/Bat Mitzvah Package

Interactive Lead MC/DJ who is BarBat Mitzvah Specialist and a party DJ dedicated to the music
Professional beat mixing digital sound system
Professional quality all digital music library with over 100,000 songs for young & older
In person, phone & email consultations
Four hours of music performance and games for kids
On line, password protected planning page, dedicated to your event
UPGRADE Screens. Adds two 50" plasma screens to show your slideshow/video and our dance videos
Complete on site sound system for backup
2 Revo III LED lights that chase the music for dancing

UPGRADE Uplighting. Adds up to 20 computer controlled, completely wireless uplights, with dress kits

UPGRADE, Sound, Adds high quality well rounded low end (BASS!)- the best sound system we offer

UPGRADE CLUB Lighting. Adds two Accuspot 300s (our best intelligent club lighting!) moving head, synchronized club lighting that work together to create a dazzling show

UPGRADE, Motivational Dancer. In addition to our DJ and MC, we add a motivational dancer to lead and motivate the crowd!

{{content-14}}
{{content-15}}
Sound Choice Ultimate CLUB Bar/Bat Mitzvah Package

Interactive Lead MC/DJ who is BarBat Mitzvah Specialist and a party DJ dedicated to the music
Professional beat mixing digital sound system
Professional quality all digital music library with over 100,000 songs for young & older
In person, phone & email consultations
Four hours of music performance and games for kids
On line, password protected planning page, dedicated to your event
Two 50" plasma screens to show your slideshow/video and our dance videos
Complete on site sound system for backup
2 Revo III LED lights that chase the music for dancing
UPGRADE Uplighting. Adds up to 20 computer controlled, completely wireless uplights, with dress kits
High quality sound with well rounded low end- the best sound system we offer
UPGRADE CLUB Lighting. Adds two Accuspot 300s (our best intelligent club lighting!) moving head, synchronized club lighting that work together to create a dazzling show
UPGRADE, Motivational Dancer. In addition to our DJ and MC, we add a motivational dancer to lead and motivate the crowd!
{{content-14}}
{{content-15}}